MySenses Spa
Reconnect With Your Inner Self
One of the best spa retreats in the Mexican Caribbean, the MySenses Spa at Haven Riviera Cancún is a sanctuary that offers a tranquil ambiance, cutting-edge services and customized therapies incorporating Mayan healing philosophy to create a wonderfully unique experience of peace and well-being during your stay. 

MySenses Spa shares luxury treatments, a complete hydrotherapy circuit with a Roman thermae, a brand new temazcal experience, spa studio, single and double cabins, a special VIP room for couples, for a wide range of treatments, an exclusive Hamman for our signature treatments, a beauty salon, a magnificent bridal suite, and a fully equipped gym with state-of-the-art equipment and technology.

Connect with your inner self at MySenses Spa seizing a variety of traditional, holistic and relaxing treatments, inspired by the traditional healing of the Mayan culture, combined with technology and modern luxury. Relax in the Water Journey circuit, enjoy delicious massages, facial and body treatments, beauty salon services and our exclusive bridal suite. Seize our renewed facial and body lines and revitalizing hair treatments, rejuvenating your spirit, body and mind.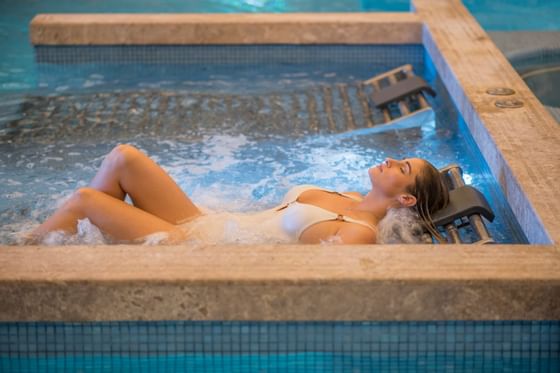 Water Journey Experience
Sauna
High-density aroma steam room
Hamman style steam room with herbarium
Sensations shower
Ice fountain
Cold mist shower
Pressure shower for chromotherapy
Cold water plunge pool
Giant jacuzzi
Dynamic Pool Circuit
Cascade shower
Water jets for physiotherapy
Cervical shower
Tubular beds
Heizer bubble floor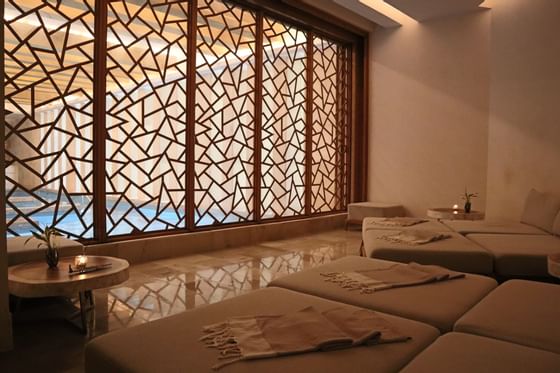 Area of Rest & Relaxation
Rehydration station with tea and natural cold-pressed fruit juice
Comfortable chaise lounge with temperature regulator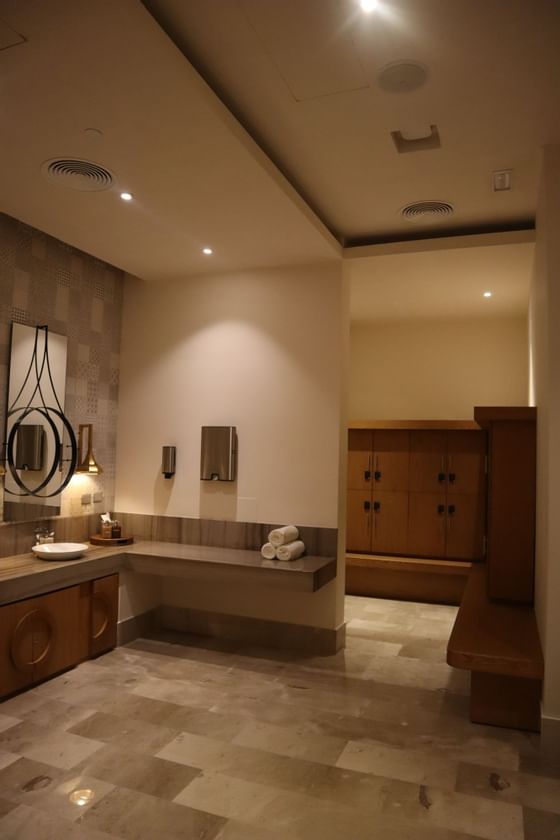 Personalized Area for Men & Women:
Separate areas for men & women with lockers
Bathrobe, towels & slippers available
Showers with complimentary bathroom amenities
VIEW OUR FULL LIST OF TREatments
Our Spa Treatments

Hydrotherapy
The use of hydrotherapy has been carried out for hundreds of years and is today an integral part of traditional medicine, yet, many of us are unfamiliar with the concept of hydrotherapy and its benefits for our health and well-being.
On its basics, cold water is used to stimulate and invigorate, increasing the body's internal activity, whilst warm water is used to calm and soothe our body's internal functions, slowing them down. The action of Alternate between hot and cold water can help to heal injuries, and enhance various bodily functions, reducing inflammation.
Hydrotherapy involves the use of pools, thermal baths, water circuits, saunas, steam rooms, and more. which can all help to improve a number of conditions. Thermal water circuits have a variety of features that stimulates the lymphatic system and eliminates toxins.
Hamman
The benefits of steam baths have been known for a long, long time. The Greeks and Romans knew the benefits of spending time in hot and humid rooms and based their cultures around the bathhouse. In fact, most cultures have used steam and heat for health benefits, enjoyment, and sometimes spiritual experiences.
MySenses Spa is one of the few to feature a Hammam bath, making its many wonderful properties available to its guests. Try it and you will certainly become a disciple of this ancient practice.
Temazcal Experience
Inspired by local culture and determined to give guests every opportunity to create their own Haven, we're bringing the temazcal to life in La Ceiba Garden. The temazcal is at once both a physical space and an ancient steam bath ritual that uses herbs, incense, sacred instruments, and song to purify mind, body, and spirit and bless us with the renewed health we need. A steam bath Aromatic infusions A rejuvenating cold shower The sealing of pores The restoration of blood pressure The leveling of body temperature Hydration, reflection, and a deep reconnection with Mother Earth, the cosmos, and the inner you.
Luxury Spa Treatments and Massage Suites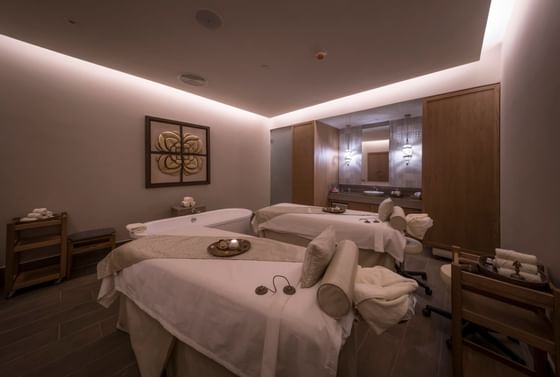 Spa Treatment Master Suite
(single or double use)
Massage
Facials
Body & hydrotherapy treatments (customized at the Spa pantry)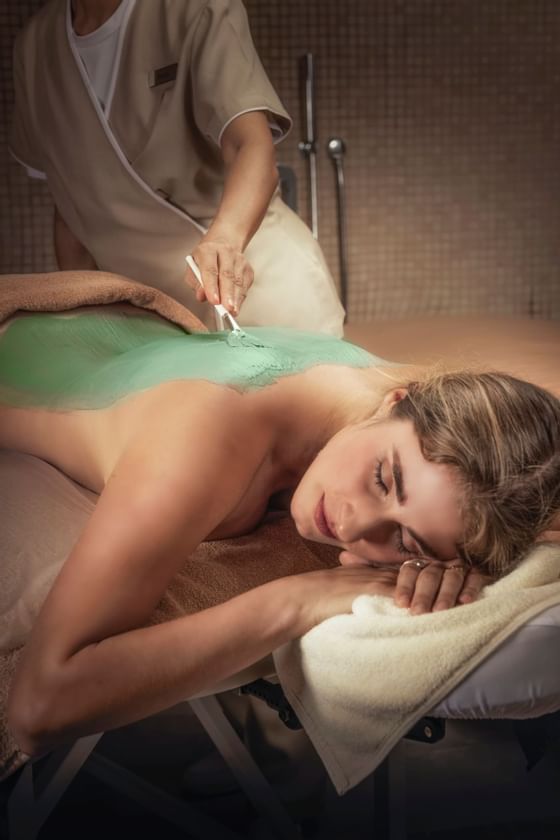 Massage Suite
(single use or double use)

The perfect space to enjoy your preferred treatment, our Massage suites can be for single or double treatments. Relax and let a peaceful vibe take over as you renew your energy, body, mind and spirit.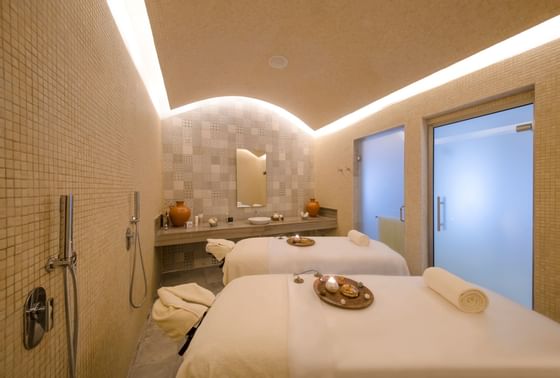 Hamman Suite for Body Treatments
(single or double use)

A place of cleansing and healing for both body and soul. An area where you can indulge your body treatments while your imagination takes you on a mystical journey.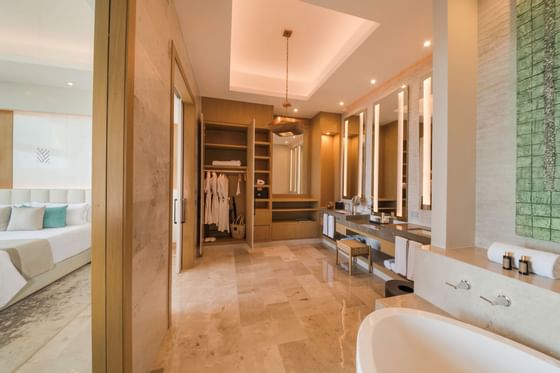 Luxury Suite
(single or double use)
Jacuzzi for two
Indoor terrace area of rest and relaxation with panoramic windows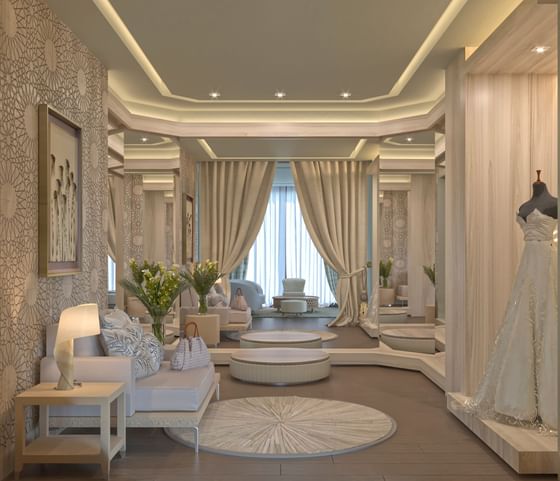 Luxury Bridal Suite
Prepare for your special occasion in the company of your bridesmaids or your closest friends in our fully equiped bridal suite. A beautiful experience before the next chapter of your life.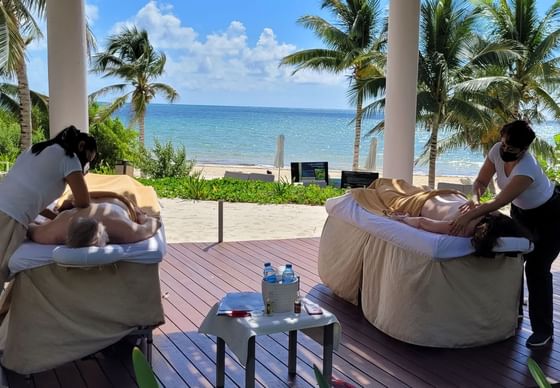 Two Beach Massage Palapas for Couples
Enjoy a relaxing massage in the calm and relaxing vibe of our secluded beach in the Caribbean Sea. This pleasant experience stops time for total relaxation of body and mind.
Luxury Bridal Suite
Live this magical and spiritual moment in the company of your bridesmaids or your most intimate people in our bridal suite.

Have a meeting with your special people while you get prepared for your big day, enjoy an amenity with fresh fruit and a bottle of Champagne in our bridal suite, live in the moment, live it now.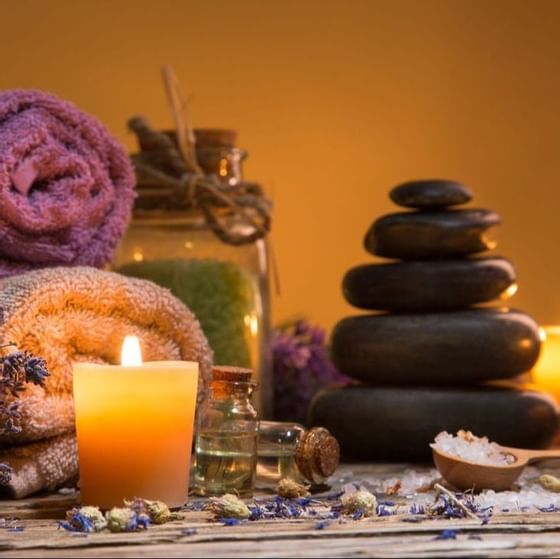 Spa Boutique:
Prestigious product line for face care, body and hair.
Complete product line of different home scrubs, exotic creams, essential oils, candles and much more.
Recognized aromatherapy line that will enchant your senses.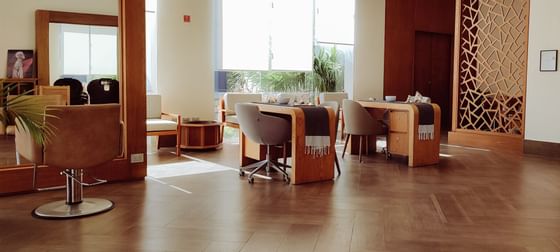 Beauty Parlor:
Two elegant pedicure stations
Two manicure stations
Two hair care stations
One hair wash station
One barber station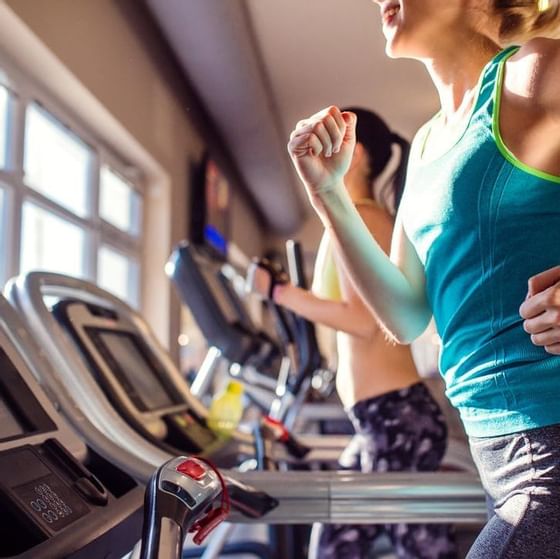 Fitness Center:
Cardio exercise machines
Free weight area
Kinesis Pilates
Lockers and showers